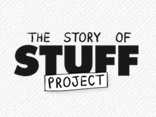 Here is my reading of Appendix 2 in the essay Story of Stuff, by Annie Leonard. You can get this book, and also watch and download for free the 20-minute documentary you'll find at storyofstuff.org! Thanks, Annie, for sharing your outstanding work! Let's help rescue the planet, our sweet home, from destructive human action!
Podcast: Play in new window | Download (Duration: 15:24 — 28.2MB)
No Comments »
RSS feed for comments on this post.
Leave a comment